La Plassohla, tapas and high quality dishes
The culinary offering at la Plassohla is a journey through flavours and textures. A voyage through traditions. A trip through other territories, other cultures, in addition to ours. At La Plassohla we propose a sensory journey through different culinary traditions in the form of tapas and small plates to share. Because we want La Plassohla to be a welcoming meeting point to discover tapas inspired by places all over the world.
Led by our chef, Martín Rodríguez. Martín was born in Uruguay and spent years travelling and experiencing other cultures. He has lived in Barcelona for more than eight years now, sharing that extensive baggage every day in the kitchen.
La Plassohla restaurant can seat up to 60 diners. The tables are laid out along the picture windows looking out on to Carrer Comtal, inviting diners to observe the comings and goings along one of Barcelona's most bustling streets from the peaceful setting inside the restaurant.
A table at the bar, opposite the kitchen, gives diners a live view of preparations, mise en place and plating. An exercise in transparency that allows diners to share the progress in the kitchen with all our team.
On the ground floor of Ohla Barcelona, this large, open space features huge picture windows so you can watch the comings and goings along Carrer Comtal and Via Laietana.
Kitchen non-stop from 12am until midnight (from 16:30 to 19:30 reduced menu).
Special Lunch Menu, all weekdays from Monday to Friday for 19.50€.
Location and contact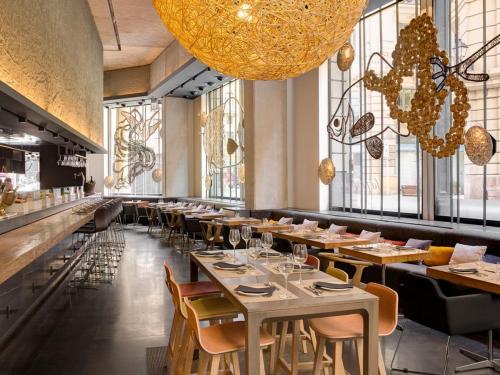 Located in the city center of Barcelona.

Via Laietana, 49
08003 Barcelona - Spain
Telephone: (+34) 935 045 100
Email: info@laplassohla.com
www.laplassohla.com